This is a great list of ad copy writing cues provided by Google. This list is buried within the Responsive Ad Writer in the suggestions section. This list is important when it comes to Ad Relevance and Expected Click Through Rate (CTR) Ad Quality Score ranking factors since it comes from Google directly. Scroll down to see the full text list.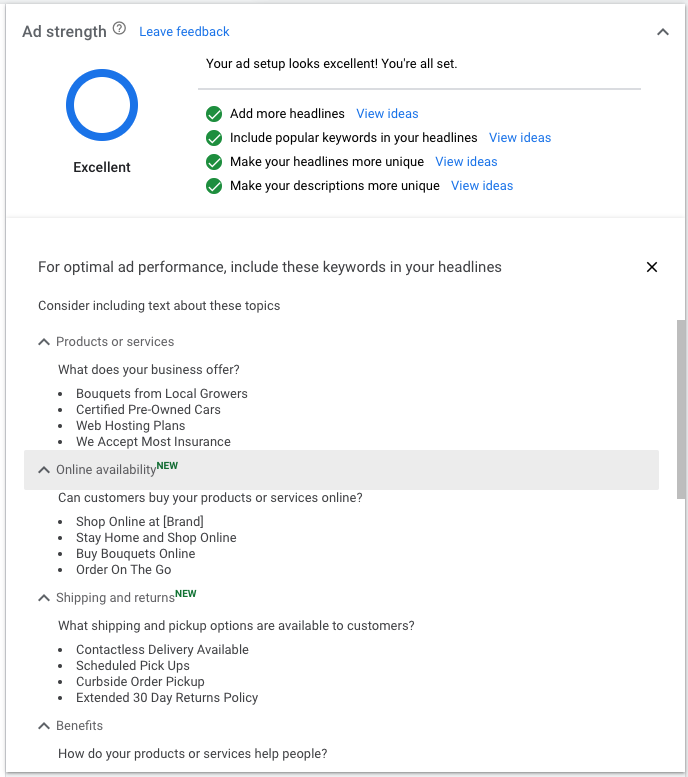 The full expanded list is below:
Products or services
What does your business offer?
•  Bouquets from Local Growers
•  Certified Pre-Owned Cars
•  Web Hosting Plans
•  We Accept Most Insurance
Online availability
Can customers buy your products or services online?
•  Shop Online at [Brand]
•  Stay Home and Shop Online
•  Buy Bouquets Online
•  Order On The Go
Shipping and returns
What shipping and pickup options are available to customers?
•  Contactless Delivery Available
•  Scheduled Pick Ups
•  Curbside Order Pickup
•  Extended 30 Day Returns Policy
Benefits
How do your products or services help people?
•  Easily Post to Multiple Sites
•  Hassle-Free Meals in 30 Mins
•  No Cooking Required
•  Two Convenient Locations
Brand
What phrases use your brand?
•  [Brand Name]
•  [Brand.com]
•  Best Prices from [Brand]
•  Official [Brand] site
Call to action
What do you want your customers to do?
•  Book Your Hotel in Las Vegas
•  Schedule a Test Drive Today
•  Compare Over 100 Great Offers
•  Sign-up Today for a Free Exam
Inventory and selection
What categories, options, and selections do you offer?
•  100s of Options to Choose From
•  The Latest Winter Styles
•  Supply of Over 50,000 Products
•  50 Styles in 50 Vibrant Colors
Pricing and Fees
What are your prices, taxes, or fees?
•  Book from as Low as $199
•  No Cancellation Fees
•  0% Intro APR for 18 Months
•  Very Low 0.05% Management Fee
Promotions and discounts
What type of deals do you offer?
•  Up to 33% Off All Orders
•  Weekend Deals Available Now
•  Earn Double Loyalty Points
•  Get Your $100 Sign-up Bonus
Advertisers should rely on this list of ad copy writing cues whenever they are writing new ads. This is especially true if you are A/B Testing Google Ads.