Are you struggling with the local campaigns that make you feel like you are in a prolonged marketing expert slump?
Many local service businesses think that advertising on Google isn't right for them, they doubt that PPC on Google is worth the hustle or don't see any significant benefit from it... yet.
Even though Google Ads is an advertising platform where you have complete control over your advertising budget, other factors come into play, exposing the struggle to monetize your PPC efforts.
Contrary to businesses that advertise worldwide and the people on the whole planet are their target audience, PPC professionals face the issues that come with a local business targeting a small area.
Firstly, that's done with a usually much more restricted budget.
Another difficulty that imposes on businesses advertising in their local area is the greater competition concentrating in a limited space. Their audience target pool is significantly tinier than what would be on the national level, thus making advertising harder.
Location targeting is an absolute must for local businesses.
That said, we have prepared some tips to help you spend clients' or your budget more efficiently when advertising locally.
Advertise to people outside your target location.
With having a concise and tight radius and generic search terms, the goal is reducing unwanted clicks and appearing for queries from irrelevant searchers.
It makes sense to exclude people outside your target area, even if they included terms in their searches related to your target location (place of business). And this applies to most businesses. You don't want to waste the budget on irrelevant traffic.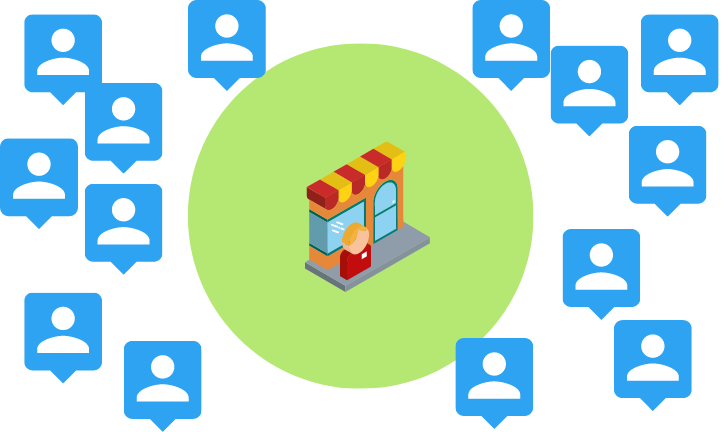 However, in some cases, like selling tickets for an event held in one city or some service businesses, it can be quite beneficial to target people who aren't in your target locations to see your ad.
The goal is not to miss other potential customers who search from a different location or perform a search for someone else who is in your close vicinity.
Let's say you are based in Pittsburgh and have an uncle who lives in Cleveland. He needs to pay a visit to the dentist, and since you are "good with computers," he wants you to help him find the best skill for the price.
Dentists would want to show up for your query "best dentist Cleveland" in this case.
Likewise, it is an excellent method for car rental services to run sponsored ads nationally (or worldwide) for queries that express interest in your business area, even when the user location isn't your business location. So it doesn't matter where they are - if they are searching for a car rental service (your service), there are chances that they are doing their research before traveling to that place.
When setting a campaign that has a national or broader target, you'll make sure that every keyword has a geographical modifier.
Take advantage of exclusion targeting.
Moving on with some advanced targeting options, you can consider adding a fat curving outer line outside of your targeting area.
By adding exclusions around your targeted area, you minimize the chances of Google's include queries that fall outside your radius. (Google isn't 100% accurate in determining users' physical locations; it uses signals to assess someone's physical location, like IP address and device location.)
You will also be saving budget by eliminating unwanted leads that you didn't intend to serve, or if the nature of your business limits the ability to operate in the broader area.
Make your location more segmented.
If you are serving only one city in the country or an area, you can add the city in fragments using zip codes instead of adding the whole area. Later you can track and optimize your campaign by segments.
What you achieve with it is that you can maintain more granular insight and scale up your opportunity to optimize the campaign's performance. If you notice underperformance of some locations, you can decrease your bids or hit a pause on them.
On a lighter, more positive note, if you notice some areas performing well, you can put extra work into getting the most out of it.
This method will help you spot which locations are more successful and can bring more customers with ease.
Get a taste of Local Services Ads.
Local Services Ads (LSA) show up on Google Search and provide more prominent visibility for local businesses in specific categories, such as roofing services, junk removal services, electricians, different lawyer services, cleaning, etc.
The ad format allows companies to present their company name, review rating, city, phone number, working hours, and a "Google Guaranteed" badge, which boosts their credibility and can help gain trust. To receive a Google Guarantee badge, you need to pass Google's screening process.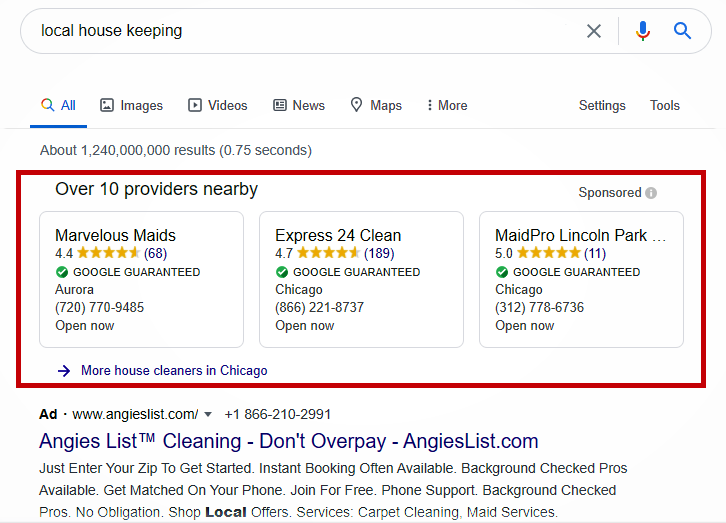 Google LSAs are different from regular Google ads; with LSA, you pay per lead, not per click (CPC), you cannot select which keywords to target, and keyword data report is nonexistent. Furthermore, they appear above Google sponsored ads and organic results in the search results.
Note: LSAs are currently eligible in 12 countries only, including the United States, and not every country supports all service categories.