You may be swamped by the emerging options of ad platforms luring you in to squander all of your advertising funds.
It is impossible to be present everywhere, and you shouldn't be.
The question is, which platform(s) to choose to advertise the business on?
It is all about the business-customer link. Do you know your client's business, the ins-and-outs of their offer, who buys those products, and where they hang out in online space?
If the answer is no to any of these questions, you have to take a few steps back to the start and invest some time figuring it out. You will also have to think about different skill sets needed for each ad platform: strong copywriting, graphic and video creation, photoshop skills.
Alright. Let's go quickly through some of the few most prominent players in the ad platform market to see which one can be a suitable solution for you.
YouTube Ad Platform
YouTube users have gone crazy about bumper ads and especially non-skippable in-stream that play during a video, and not in a good way. They testify ads as being annoying and rude.
However, brands keep getting good results. Furthermore, some claim to be getting great effects with ads on YouTube.
With 2 billion users and a large portion of YouTube watch time happening on mobile devices (>70%), the platform is a consideration for businesses that offer physical products and services to build and enhance their brand recall.
If you choose to try advertising on YouTube, you will have to create YouTube ads using Google ads since Google's advertising platform includes YouTube, among other advertising networks.
Facebook Ad Platform
For June 2020, Facebook reported having 1.79 billion daily users on average, and 2.70 billion monthly active users in the same month.
In the U.S., about seven-in-ten adults (69%) use Facebook; of them, roughly three-quarters (74%) visit the site at least once a day.
Commercial intent is not on a high level; quite the opposite, it's relatively low. People hang on Facebook for many reasons, but looking to buy a bicycle or project management solution is not one of them.
However, it can be a fantastic tool to introduce yourself and grow awareness for your brand, educate potential consumers and show up when they get closer to the lower buying funnel and are only baby steps away from making a purchase.
Instagram Ad Platform
Counting over 1 billion users, Instagram is one of the largest social networks globally and a platform wildly popular for people ages 18 to 34.

Distribution of Instagram users worldwide as of July 2020, by age and gender by Statista
On Instagram, everything is about making your products and services look good, attractive. It can help you boost awareness, stimulate considerations, and drive in sales.
When trying to reach your audience, keep in mind that the purchase intent is relatively low.
Amazon Ad Platform
With an approximate of three hundred million customers under its belt, the Amazon ad platform is a place where you should consider investing some money if you sell physical and non-physical products (like an online course).
In August 2020, the number of visits to Amazon.com surpassed a whopping 2.58 billion.
On average, small and medium-sized businesses from the U.S. sell more than 4,000 items/minute in Amazon's stores. The stats seem promising and encouraging for many SMBs that want to tap into a base of a couple of hundred million people with higher commercial intent.
LinkedIn Ad Platform
LinkedIn is a professional network counting more than 706 million professionals who are eager to connect and expand contact lists for their career and work agendas.

Selling services or products to businesses is quite different from the B2C business type. Your focus here is on building personal relationships while generating leads that bring long-term business and referrals.
If your business is in the B2B space, you can consider LinkedIn as the platform for building following and authority through content posting and utilize its advertising solution.
Google Ad Platform
Google doesn't share data, but there is info from credible sources that Google performs over 3.5 billion searches per day, and the estimate of monthly visits to Google.com is 84.36 billion in August.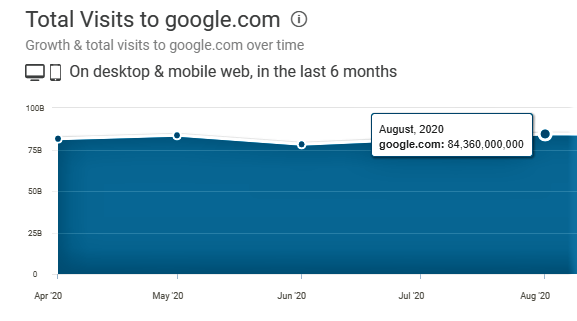 The great thing with Google is that people are searching for products and services like yours and are more prone to buying than on Facebook, Instagram, i.e., their purchase intent is high.
It is the most popular ad platform, and with a valid reason: You can serve ads on Google for any product imaginable: physical products, digital products, local services, and utilize Google search engine and a large number of websites on the Google Display Network.
Try to get customers through search ads first and utilize other campaign types like video or shopping ads to fit your business strategy. Use remarketing on different websites related to user's interests, and setting up shopping ads if you sell a wide range of products.
We had covered several ad platforms, and we encourage you to do further research. Explore more ad platforms and drill into users' demographics and behavior for each one of them. Get to the core of every ad platform to uncover the correct answer for your brand.