"How to structure my Google Ads account?" Frankly, this is a question with multiple answers, and they are all correct. Why? Because either one of them can be the right one depending on who's asking.
Concerns about bidding options (manual, automatic), campaign structure, management, they all sum up to the core goal of having an organized account inside Google Ads (AdWords). The truth is: sorting everything will make your life undoubtedly easier.
This blog post's space limits us; hence, we won't cover all details around the subject, but we'll try our best to address some common questions and scenarios and equip you with enough info so that you structure your current and future accounts with confidence.
The account should mirror your website.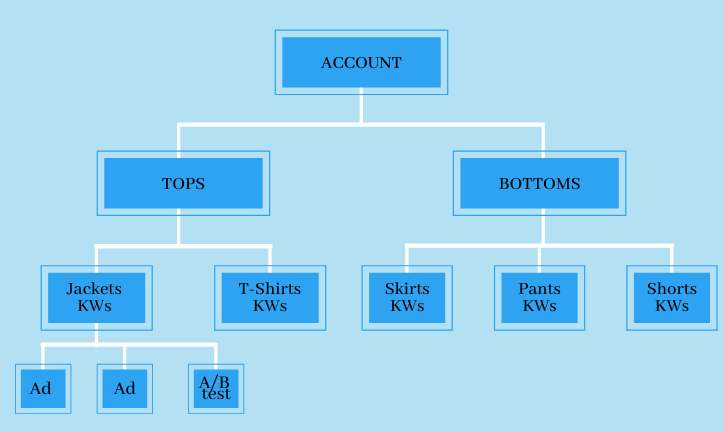 First and foremost, an optimal account structure should reflect your website.
Paid marketing specialists point to the general rule to build campaigns based on the website structure, primarily because it makes mapping ad groups to landing pages easier and logical.
However, you might have, or you're going to encounter websites without right-on-the-spot clear organization throughout your career. If you have to deal with the websites where you cannot clearly determine themes or categories, segment account based on how you think you should best represent it (e.g., by geo-location).
What to consider when structuring a Google's account?

First, start by answering a couple of things.
Your work rhythm.
How much time can you spend on an account? A couple of hours per day or per week?
What is your way of doing reporting? Do you have to pull out detailed reporting or less complex weekly or monthly figures to present to your clients?
When choosing how to structure your account and select a bid strategy, there is an element to consider: how quickly you can respond to performance changes and how much they affect you (how large is the account you're managing).
Will the account be split and managed by more than one person or a team? Sometimes, you will have to divide responsibilities and set to have separate teams handling different strategies. Here it is best if you segregate teams by campaigns.
Get to know your (client's) business limits.
The essential thing to have in mind is your client. It is wise to recognize the company's limits straight off the bat. One of the most apparent restrictions you could meet relates to the budget.
Furthermore, you ought to recognize whether the company operates in the regulated industry, and Google considers the product or service to be dangerous? Maybe you can't have certain traffic to specific landing pages and have to work your way around it.
What's the company policy of the competition? Whether you consult with your client and act based on their answer, or you are the one who's taken the reigns without outside meddling, there are only two ways to go about this: you will bid on competitors or block them altogether. If you decide to go after your competition and snatch their potential traffic, the easiest way to structure the account would be to create a separate Competitors campaign.
Make sure you have set clear objectives. (Objectives examples: CPA, ROAS, Website visits, etc.)
Single account or multiple?
Are you operating worldwide or expanding to new geo-locations?
Using a single account for all campaigns is a general and simplified practice. However, it might be prudent to have more than one account for different countries if you need to separate billing or other aspects like reporting or localized teams that manage campaigns specific to a particular country.

Your ad groups represent sets of related keywords, ads, and bids and work best when they are focused on one thing.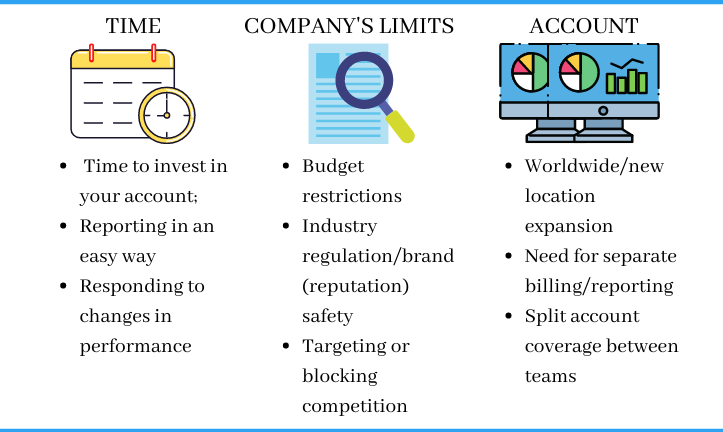 Search campaign account structure - Examples
Campaign structure depends on the niche, the business, the account sized, and all things discussed above.
General search campaign structure
That said, many PPC specialists would comprise a general search campaign structure of:
Primary campaign - keywords reserved for high-commercial intent, purchase-related product keywords, focus on phrase match, and exact match keywords for your primary volume and high-value drivers.
General campaign - general broad service keywords; utilize broad match keywords to reveal and capture a wide range of related user intent queries.
Brand campaign - your brand keywords.
Competition campaign - if not, then negative keywords implementation.
Add RSA (for experimenting with different headlines and descriptions, note that it is not the same as testing out Ad Variations in Drafts and Experiments), and DSA to the structure (to capture queries outside your keyword-based strategy).
If you manage a lot of SKUs, you should set up a shopping campaign as well.
Same keywords different type match campaigns
Exact Match Campaign with exact match ad groups
Broad Modified Campaign with broad ad groups plus exact match negatives on a campaign level
Phrase Campaign with phrase ad groups plus exact match negatives on a campaign level
Note: Whenever you add new keywords, you will also have to add them as negative keywords elsewhere.
Advertising different products in large accounts.
Large accounts that have different products/services and use automation regularly have different conversion goals. Thanks to the conversion goal selection on a campaign level (introduced in 2019), you can now separate your services and configure your campaigns the way you want to.
Your account structure is comprised of several campaigns with tackling every service separately:
Service 1 campaign
Service 2 campaign
Service 3 campaign, and so on.
Don't forget to target all relevant users with RLSA.
Remember, PPC is not an exact science. Having your client's best interest at heart, you should implement various tactics, experiment with what might work, and keep in mind to always keep researching and testing.